Real sentinel dominating the Eyrieux's Valley, the Castle of Rochebonne offers a remarkable viewing point on the Ardèche's Mounts.
Dive in history and nature by discovering the Castle of Rochebonne's remains, a legendary monument built in the 11th century, from which you can enjoy the wonderful view on the Boutières' chain and the Eyrieux's Valley.
o to the discovery of the castle in a slow mode, thanks to a hiking path which leads you to the castle from the village of Saint-Martin-de-Valamas.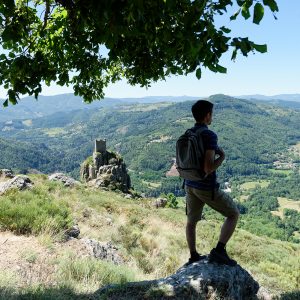 Since 1983, the Friends of Rochebonne Association has waged 9 campaigns of renovation and strengthening of the castle's remains. The goals of the project are the heritage safeguard and the site securing.